Hormone Replacement Therapy, Menopause, and Weight Gain
By Dr. Patrick Lovegrove Medically Reviewed by Lindsay Langley, BSN, RN, CHT
Posted Saturday, February 11th, 2023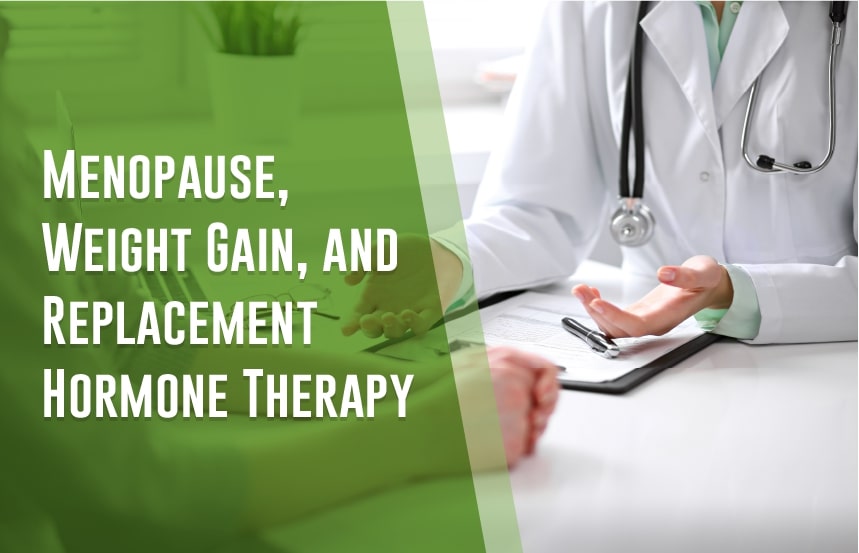 Due to changes in hormone levels, there is a chance of weight increase with the onset of menopause. Menopause symptoms include vaginal dryness, insomnia, dry skin, hot flashes, and bladder issues. One can undertake hormone replacement therapy or hormone therapy (HRT) to alleviate these symptoms.
What is Replacement Therapy for Hormones?
Administering estrogen and progesterone through pills, skin patches, or vaginal creams in hormone replacement treatment. Studies have demonstrated that hormone therapy reduces not just menopausal symptoms but also the risk of osteoporosis and increases longevity. A woman who has undergone a hysterectomy may also be prescribed hormone therapy. However, they have solely prescribed estrogen. Men and women have used this therapy for decades.
Essentially, there are two forms of therapy: estrogen therapy and progestogen-estrogen therapy. Doctors recommend only a modest dose of estrogen in estrogen therapy to prevent or alleviate menopause symptoms.
During progestogen-estrogen therapy, doctors administer estrogen and progesterone in combination doses. Referring to synthetic progesterone by the word progestin. Every month, this treatment is delivered for a couple of weeks.
How might hormone replacement therapy assist me in shedding pounds?
A couple of years before menopause, hormone levels decrease, resulting in an increased desire for sugary or sugar-rich foods. As menopause approaches, the body produces less estrogen and begins utilizing estrogen stored in fat cells. Simultaneously, testosterone levels fall, resulting in a loss of lean muscle mass. Lean muscle mass aids with fat loss. When lean muscle mass decreases, fat accumulates, resulting in weight gain. Hormone abnormalities cause this weight increase, and it is pretty challenging to lose the weight accumulated after menopause. Hormone replacement treatment is the only means of avoiding weight gain. With the assistance of a medical professional and under one's physical condition, one can select one of the hormone therapies.
The start of menopause is typically accompanied by cardiovascular risk and weight increase. Numerous studies have demonstrated that HRT or hormone replacement therapy prevents postmenopausal weight gain.
Due to the significant increase in lipid oxidation, studies have concluded that hormone replacement treatment prevents weight gain and promotes weight loss. In addition, it demonstrates that hormone therapy positively affects plasma lipids, insulin responsiveness, and energy expenditure.
Learn more about hormone replacement therapy from the Merge Medical Center, an anti-aging treatment expert in South Carolina. Merge Medical Center's physicians employ proven and effective treatments to halt, stop, and even reverse the symptoms of aging and encourage weight loss.