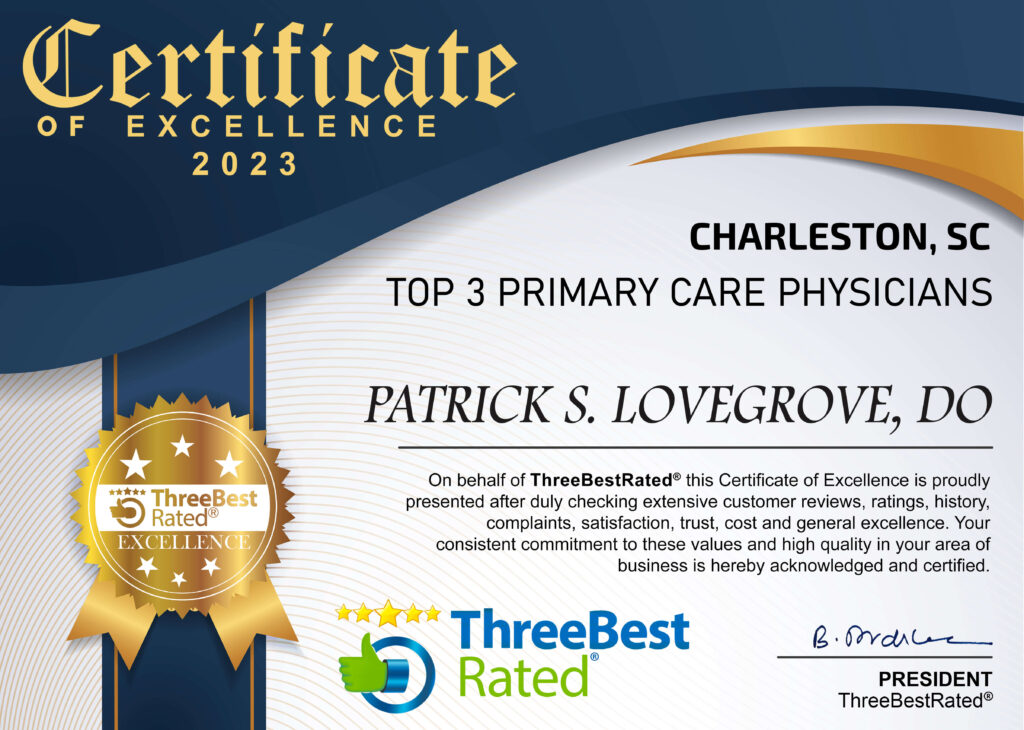 Dr. Patrick Lovegrove is board certified by the American Board of Family Physicians. A Nova Southeastern College of Osteopathic Medicine graduate, his over 20 years of clinical experience includes Family Practice, Anti-aging, Holistic Internal Medicine, Pain Management, Aerospace, Sports, and Emergency Medicine.
Dr. Lovegrove was born in Staunton, Virginia, and graduated from the University of Virginia, where he majored in Biology. He received a Medical School Scholarship from the United States Air Force. He graduated from Nova Southeastern College of Osteopathic Medicine in Ft. Lauderdale, Florida. He then entered Family Practice Residency in a unique joint program with St. Louis University and the 375th Medical Group at Scott Air Force Base. After finishing his residency in 2004, Dr. Lovegrove chose to serve his country with the Air Force as a Family Practice and Emergency Room Physician at Osan Air Base, Korea (outside of Seoul). He accepted his selection to the San Antonio, Texas, Aerospace Medicine Program.
Later that year, he moved to an airbase in Germany called Spangdahlem, where he joined the 81stFighter Squadron as their "Flight Surgeon." He continued serving his country during multiple tours of duty in Afghanistan, England, Portugal, Italy, and Qatar. He was honored with Accommodation and Meritorious Service medals with an oak leaf cluster. In 2007, Dr. Lovegrove moved back to the U. S. soil here at Charleston Air Force Base, where he continued practicing Family, Aerospace, Anti-aging, and Hormone Doctor in Summerville and Holistic Internal Medicine.
In 2008, Dr. Patrick Lovegrove founded Merge Medical Center as a unique medical practice in Mt. Pleasant, South Carolina, specializing in Holistic Internal Medicine, Functional Medicine, Preventive Medicine, Anti-Aging, Pain, and Weight Management modeled after medical centers out in the Western part of the United States and Europe.
In 2011, Merge Medical Center, affiliated with ACN Wellness– Centers for Integrated Medicine of Vienna and Ashburn, Virginia, expanded its treatment capacity up the East Coast. In 2012, Dr. Lovegrove was recognized by the National Academy of Medicine as having earned the President's Award For Excellence.
Dr. Patrick Lovegrove started his practice of holistic internal medicine in his first year of medical school in 1997 by reading Dr. Andrew Weil, MD's book, Spontaneous Healing (New York Times Best Seller). Even though he was going through traditional medical school training, he continued to foster that education with a complementary, alternative medicine mindset. He since has studied and learned from renowned medical doctors who also are authors/educators in functional medicine, such as Dr. Mark Hyman, Dr. Amy Myers, Dr. Gregory Petersburg, Dr. Neal Rouzier, Dr. Sangeeta Pati, Dr. Jonathan Wright, Dr. Eric Braverman, Dr. Alan Gaby, Dr. Mark Houston, Dr. William Davis, Dr. David Perlmutter, Dr. Walter Crinnion, and Dr. Daniel Amen.
Dr. Lovegrove believes holistic medicine should be integrated with conventional medicine in a scientifically based model to achieve the best patient results. He addresses a patient's complaints to find the root cause and customize a regimen to fix it long-term instead of using only traditional medication that suppresses symptoms.
Dr. Lovegrove utilizes orthomolecular and genetic laboratory testing to customize a patient regimen based on their unique body chemistry, imbalances, and deficiencies. In addition to utilizing traditional prescriptions, some of his treatment recommendations may include nutraceuticals, herbs, vitamins, Bioidentical hormone therapy in Summerville, dietary or nutritional changes, customized stretching and exercises, a detoxification plan, spinal analysis, osteopathic assessment, lifestyle or behavior modification, life coaching, mind-body techniques, and stress response management.
Dr. Lovegrove lives with his wife and three young children in Charleston, Mt. Pleasant, Summerville South Carolina. They enjoy family bike rides, reading together, and visiting the local parks and restaurants. They stay active in their community and church.